INFO
"MAGIC GRANARY" – mystery on the outskirts of the city
The most mysterious game of Hungary is arrived in Győr! Magic Granary in Kismegyer from the ParaPark creators.
The legendary ParaPark – production is based on an escape, so the members of a team are taken captive by a mysterious place. From this place you have to get out, but you can do it only by using your brain. The strength won't help you – on top of it all you have to get out within 60 minutes. Through finding out secrets, solving riddles and opening locks can you find the way out. While you never know what is waiting for you behind the next door...
The kismegyer Granary can be found on outskirts of Győr which stone-walls keep the secrets of many centuries. One of them comes from the 21th century... Enter the bleak and solitary building with your friends, and endure that the heavy big door will be locked behind you and watch the clock on the wall. 60, 59, 58... Attention! You have to work as a team, otherwise you don't have any chance to escape! Logic, presence of mind and team-work – That's the key to Magic Granary!"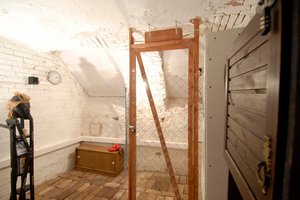 We are looking forward you with locked gates, if ...
In one group minimum 2 and maximum 6 persons can take part. It is very important because this play requires team-work in any case. During the escape more kind of skills are needed utilized them at the same time, so you cannot be successful alone. But besides there are no place for more than 6 persons in the deep of ParaPark.
We are proud of the fact that we don't want to frighten our pacemaker owner guests with fearful lights – and voice effects. Why ParaPark is so sensational thanks to the exciting quizzes, searching for jigsaw puzzles pieces and the adventure of a team-work. These are which increase your adrenalin-level, too.
You don't have to afraid that you meet such a fearful light – and voice effect or blood-curdling dramaturgic turn which usually require age limit in a movie. So we tell you the following:
Up to 14 age – with respect to the rules and norms – anybody can take her/his chance in ParaPark. And the children – depending on their individual maturity – also can play under the escort of an adult in the basement.
But we are entirely at service of worried parents, pedagogues and colleagues from HR department with a personal talking J